Plant-based protein is more than just a fringe curiosity among consumers today. It's a welcome new option for those who want to make better-for-you eating choices. As you look to meet the needs of your flexitarian customers, here are four key factors to keep in mind.
1. The seeds have already been planted
Consumers are trying to increase consumption of plant-based proteins compared to last year. Today 21% are looking to reduce meat in their diets, which is a 6% increase from last year.1 Additionally, 29% of total consumers are trying to increase their consumption of nuts, nut butters or bean-based proteins—an increase of 2% from last year.1
The takeaway?
You don't have to sell your customers on the merits of plant-based protein. The demand is already there. You simply need to find delicious new ways to add it to your menu—and promote it when you do.
2. Is the environment right?
Studies indicate that half of consumers believe plant-based foods are generally better for the environment. As you might expect, this percentage is driven by certain age groups and lifestyle habits.
Of the consumers who feel this way1:
67% are students
66% are climate concerned
57% are Gen Z
46% eat meat daily
The takeaway?
Think about other ways you can enhance the environmentally friendly aspects of your operation to further connect with customers (i.e. add recycling bins, install energy-efficient light fixtures, etc.)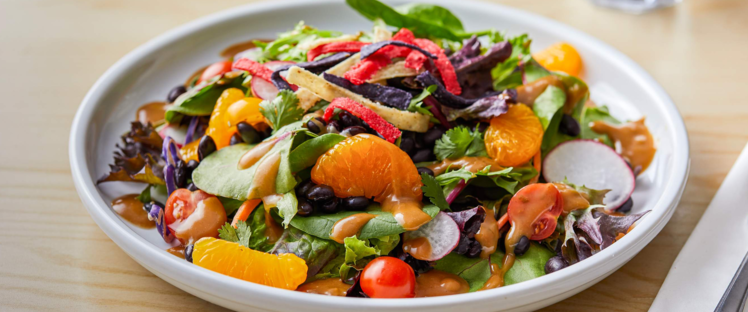 3. Watch out for the roadblocks
As is the case with virtually every emerging trend, there are always going to be those who are reluctant to change. Here's a breakdown of key factors holding people back from eating plant-based foods more often or at all.
Consumer hesitancy with plant-based foods1:
Taste and affordability concerns
Texture concerns
Not sure about nutritional value
Not sure how to cook/prepare and where to find
The takeaway?
Create gorgeous photography of your plant-based offerings to play up the appetite appeal. Also, communicate the amount of protein in your plant-based dishes if possible.
4. Flex your prep skills
It doesn't have to be an "either/or" proposition when it comes to the protein choice at mealtime. Consumers today are open to trying dishes that contain both animal and plant proteins.
Where consumers stand on animal and plant protein1:
Trying more dishes that mix animal and plant proteins
Plant-forward or flexitarian eating
Trying more dishes that feature dairy alternatives
The takeaway?
There are many ways to appeal to your customers with plant-based protein. By simply substituting a plant-based protein for a single meat ingredient in a dish, you can add an enticing new option for flexitarian eaters.
1Datassential, 2022 Plant-Forward Opportunity Report, June 2022