1. Where are micromarkets thriving?
As self-serve commerce technology continues to evolve, micromarkets become a more viable option for both commercial and noncommercial spaces.
2. Why are micromarkets growing?
Labor
Micromarkets eliminate the need for hourly labor, and nearly eliminate labor needs altogether.
8 IN 10 OPERATORS HAVE JOB OPENINGS1
Grab & Go
Grab and go is growing, and millennials are key micromarket patrons2
31% OF CONSUMERS WILL PATRONIZE A MICROMARKET IN THE NEXT 6 MONTHS2
Fresh Convenience
Operators who make the switch from vending machines can offer a wider variety of fresher foods, and they report:
• LOWER UPFRONT INVESTMENT3
• HIGHER REVENUE GROWTH3
• HIGHER PURCHASE AVERAGES3

3. How are micromarkets evolving?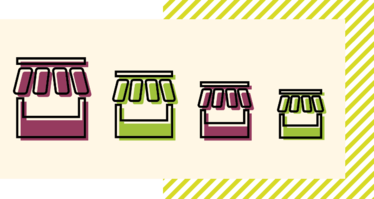 Micromarkets are endlessly flexible, and we are seeing every aspect—from size to offerings—evolve to meet the needs of target consumers.
• MORRISON HEALTHCARE SERVES SCRATCH-MADE FOOD TO OVERNIGHT STAFF.4
• MAYO CLINIC RUNS A HYBRID MODEL WITH ATTENDANTS AT THE BUSIEST HOURS.4
4. How do you set up a successful micromarket?
Technology
Reliable, self-serve POS system
Location
High-traffic location with space to move in and out quickly
Offerings
High-quality grab-and-go foods that require minimal prep
Heighten consumer appeal with
Contact a rep to discuss stocking your micro-shelves with food and beverages your guests can't help but reach for. Like the portable, packable, anytime snackable Smucker's® Uncrustables® sandwiches—now available in a convenient 48-count cases with a game-changing 5-day refrigerated shelf life.
1NRA, January 2023.
2Technomic Ignite, Q4 2022.
3Nayax, January 5, 2023
4Food Management, June 8, 2023.